Introduction
Modern golf bags are made of nylon, canvas and/or leather, with plastic or metal reinforcement and framing, but historically bags have been made from other materials. Golf bags have several pockets designed for carrying various equipment and supplies required over the course of a round of golf.
There are several different types of golf clubs in a typical golfer's bag. In fact, today, there are five categories of clubs: woods (including the driver), irons, hybrids, wedges and putters
Golf bags come in a large variety of options, which leads to a large range in price from $50 to $1000. Prices are dependent on a few factors, most notably size, material, and manufacturer. The pencil bag is the smallest and usually the cheapest option; however, genuine leather pencil bags can cost as much as $1,000. The largest golf bags available are tour bags, which can be purchased from $400 to about $700. Stand bags and cart bags will cost about $100-$400.Your golf bag is arguably the essential part of your golfing equipment arsenal. It's where you keep everything during the game and is most likely where everything remains when you aren't on the course. If it isn't fit for purpose, it isn't going to serve you very well.
That's what we intend to answer here. Of course, it's a largely subjective topic, so we're going to cover as many bases as possible to ensure you make an educated purpose.
By the end, you'll understand the world of golf bags a little better. Most importantly: you'll know what you want from one! First, let's start with the basics.
About Golf Bags:
The golf bag, most importantly, will carry the essential equipment: a maximum of 14 clubs, golf balls, and tees. Other equipment typically found in a golf bag includes golf gloves, yardage finder, pencils, ball markers, wallets, and an umbrella. If the golf bag is large enough, you may also find water bottles, a rain suit, rain gloves, a sweater, a wind jacket, snacks, towels, sunscreen, extra socks, or first-aid kits.These bags feature padding to protect club heads, extra storage, and wheels to allow easy transport. There are two main types of travel bags: hard case and soft shell. If you often take your clubs on an airplane, make sure to check with the airline's guidelines for golf clubs
A tour bag is the biggest bag that golfers use. Tour bags are large and can weigh up to ten pounds, making them heavier than other bags. Many professionals use them, and they are a commonly seen item during tours, which is why they are known as "tour bags."
There are undoubtedly many choices out there, which can make the selection process a little overwhelming. We already spoke about three of the most popular varieties out there: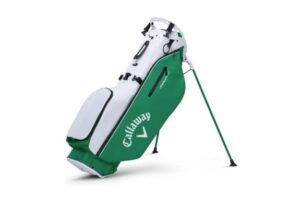 Fig: 1    Golf bag
Carry bags
Stand bags
Tour bags
There is a variety of criteria that can answer that question. Listed below are some key things you should look out for when selecting your new bag. They can make a significant difference between a successful addition to your golfing armory and an overpriced hindrance. Let's go into some more detail
The golf bag is an essential item of equipment and finding the right one could help you make the difference when it comes to organizing and planning your game. Whether you prefer to carry, take a cart or a buggy, the best golf bags have been designed and engineered to suit your requirements. You need a bag that will protect your equipment, provide the right level of storage with easy access to clubs and accessories, and one that delivers the best possible ergonomic fit for you.
If you use a cart or buggy, you'll look for a robust and stable bag that's easy to lift and sits well on its side or base. Other features to consider will be, the level of storage, the ease of access to clubs and accessory/apparel pockets. Many modern bags provide water resistance and extra protection for valuables.
If you like to carry, then you'll look for something lightweight and comfortable that sits well on the back. Depending on the conditions you generally play in, you might consider the quality of the stand and the level of storage available. Easy access and protection of clubs will always be a consideration.
One of the best golf bags on the market and perhaps the most well-known, the Ping Hoofer continues to offer an incredible blend of performance for a wide array of golfers.
As soon as you pick it up, the comfort is delivered by two well-cushioned shoulder straps. as well as a hip pad that cushions all the right areas. Weighing just 5.5lbs – less than 2.5kg – it provides also provides a pleasurable walking experience from start to finish.
In addition, for those who like to do things a little old school, the new back puck makes it far easier to transition from two straps to one. Alternatively, for cart lovers, there is a cart strap channel that passes underneath the main pocket, meaning it is straightforward to attach and ensures unrestricted access to all 11 pockets!
The golf bag, most importantly, will carry the essential equipment: a maximum of 14 clubs, golf balls, and tees. Other equipment typically found in a golf bag includes golf gloves, yardage finder, pencils, ball markers, wallets, and an umbrella. If the golf bag is large enough, you may also find water bottles, a rain suit, rain gloves, a sweater, a wind jacket, snacks, towels, sunscreen, extra socks, or first-aid kits.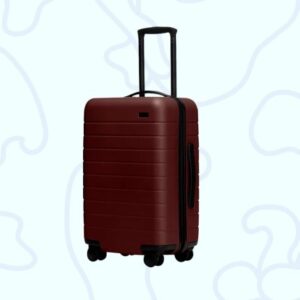 Fig: 2    Carry bag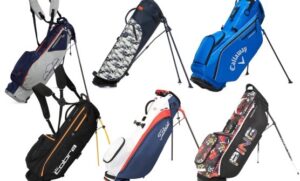 stand bag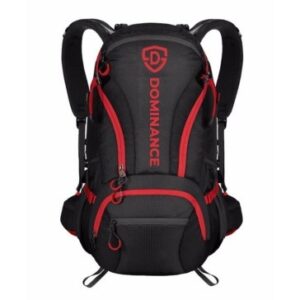 tour bag
The Number of Dividers
Traditionally, golf bags often had a maximum of three dividers. In most games, three golf clubs were all that was necessary!
Putter Wells
Straps and Handles
Rain Hoods
Putter Wells:
Not all dividers are equal.
Putter wells are perfect for players who carry multiple clubs at once, as they prevent the 'puts' of the clubs from hitting each other.
This means you won't need to pay for replacements as frequently, and damaged putters won't hinder your game.
A golf bag with a putter comes in handy when you are playing golf and gives you the convenience of having a place to put your putter so that you do not have to carry it around with you. In this article, I'll review the best golf bag with putters well giving details of why I like each of them.
A putter well is a small space within the golf bag that is specifically designed to hold the putter. This is different than just having a dedicated pocket for the putter because the putter well is typically foam-lined to protect the putter and keep it from moving around inside the bag
You can find golf bags with 3-way dividers up to the max with 15-way dividers. Most cart golf bags also feature a separate holder for the putter – the external putter well.
A putter well is only available on cart bags, not stand bags, since those are made to be lightweight and have less storage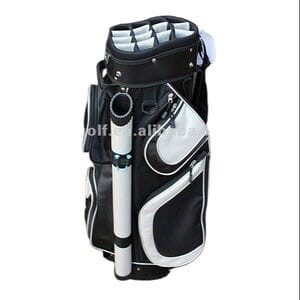 Fig: 3    Putter wells golf bag
Straps and Handles:
Speaking of effective weight distribution, make sure to take a good look at the strap situation on your new golf bag. One strap isn't going to cut it if you prefer to walk the course.
Just like a backpack, proper weight distribution is vital for your health!
However, if you're only ever going to lift your bag to sling it into your golfing cart, then you don't need to worry so much about how it handles.
For all golfers who carry their golf bags, having a good, comfortable golf bag carry strap is essential. Moving your golf bag from one place to another can be a strenuous exercise especially if you are playing a full 18 holes on a large golf course.
If your bag does not have carry straps, you will have to carry the bag by its handle. This is uncomfortable and will put a lot of strain on your shoulders, and neck. Buying a golf bag carry strap will help alleviate this problem.

Fig: 4    Straps and handles golf bag
Rain Hoods:
If you are part of the latter group, you need sufficient protection, but your clubs do too!
A rain hood is perfect for this. Keep your equipment protected and rust-free for longer, no matter how torrential it may get out there.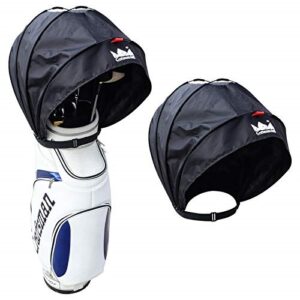 Fig: 5    Rain hoods golf bag
Material of golf bags:
The material a golf bag is made of has a significant impact on its weight, durability, and expense.The primary materials used for golf bags are nylon, canvas, leather, other types of synthetic fabrics, and plastic or metal reinforcement. Nylon is a woven synthetic that creates a durable, lightweight outer casing used on sand bags. Canvas, either waxed or treated, is an upgrade in quality and design, plus it's also waterproof. There are other types of synthetic fabrics that also have waterproof capabilities.
Leather bags typically require a golf cart because of their added weight.
Golf bags need a frame in addition to their casings. Plastic reinforced frames are favored for sand bags because they're light, while metal reinforced frames are heavier, last longer, and can handle more rigorous use.
A golf bag is the home for clubs, balls, tees, gloves, and other gear like shoes, but it also serves as a fashionable and functional piece of equipment on its own. The best golf bags have the versatility to be used in all scenarios so you can use them while walking a course, riding a cart, or attaching your bag to a manual push cart.
Golf bags are not all built the same
They come in a variety of materials, all with specific strengths and weaknesses. Depending on what you prioritize while you play, you will need to consider the different materials before purchasing. Listed below are some of the most common types available and what they are best suited for.
Nylon
Golf bags made from this material are the most popular for beginners or those who want something lightweight. For this reason, you will find that most carry bags are nylon.
As their design straps to your back, carry bags must be as light as possible. If your preference is to walk the course, a nylon carry bag is a smart move, as it will put minimal stress on your back.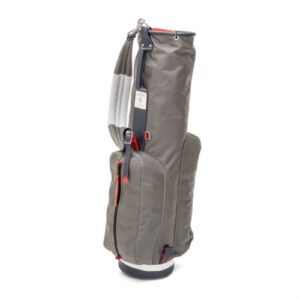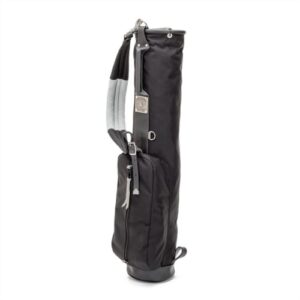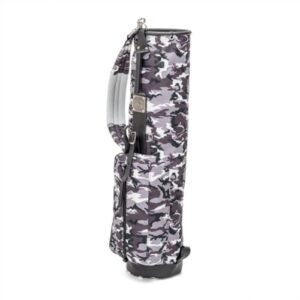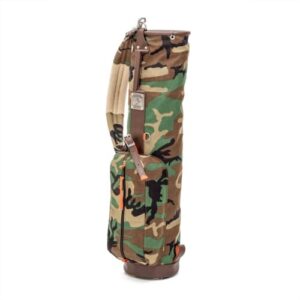 Fig: 6        Nylon golf bags
Canvas
Similarly lightweight to nylon, canvas golf bags are ideal for getting around the course with extra equipment. This is why many canvas golf bags make great stand bags. Light enough for you to carry around, they can be set down and stood up via extendable legs to avoid excessive strain.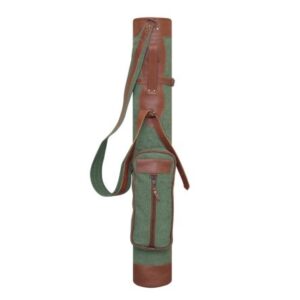 Fig: 7    Convas golf bag
Leather
Arguably the most durable yet the most expensive of golf bags, with leather, you get what you pay for. They are designed for professionals or those who are frequent players. Most tour bags are fashioned from leather.
These are the ones you will see most professionals using, partly because of their size, weather resistance, and overall quality. However, they do tend to be the heaviest and ordinarily require the assistance of a golf cart.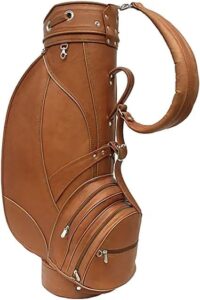 Fig: 8    Leather golf bag
Plastic or Metal Reinforcement
The frame is a significant component, especially when it comes to durability and portability. Plastic reinforced frames are generally favored for carry bags, as they tend to be much lighter and can be moved around the course easily.
Metal reinforced frames are more solid, meaning they often last longer and can handle more rigorous use for more extended periods. Tour bags and stand bags tend to have metal frames due to frequent use. However, they are often more expensive due to the increased quality.
Conclusion:
Ultimately, the best bag for you is the one that suits your personal needs to the greatest extent.
The most expensive doesn't necessarily mean it is of the most outstanding quality. If you are a beginner or casual player, don't overstretch yourself for a bag that you don't need.
Likewise, if you are a frequent and dedicated player, don't skimp on something you're going to use so often!
Consider Stitch's advice on what to look for, and you'll be fine. Remember, it isn't just your clubs that need your attention.
In total, 54 percent of golfers agreed that the putter is the most important club to have in the bag in order to lower scores. 20 percent of golfers said the driver was their most important club while 14 percent said their wedges.